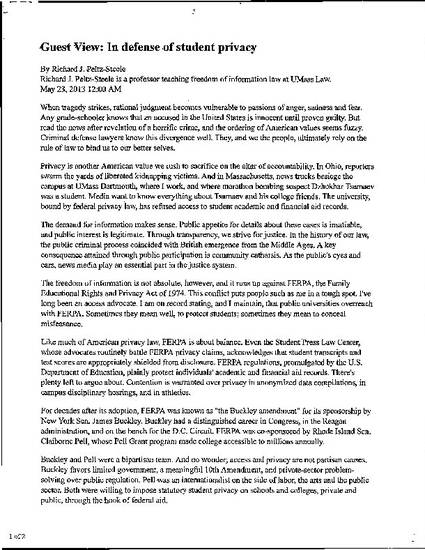 Article
Guest View: In Defense of Student Privacy
Faculty Publications
Publication Date
1-1-2013
Abstract
Privacy is another American value we rush to sacrifice on the altar of accountability. In Ohio, reporters swarm the yards of liberated kidnapping victims. And in Massachusetts, news trucks besiege the campus at UMass Dartmouth, where I work, and where marathon bombing suspect Dzhokhar Tsarnaev was a student. Media want to know everything about Tsarnaev and his college friends. The university, bound by federal privacy law, has refused access to student academic and financial aid records.
Citation Information
Richard J. Peltz-Steele,
Guest View: In Defense of Student Privacy
, The Standard Times, May 23, 2013, at A4.