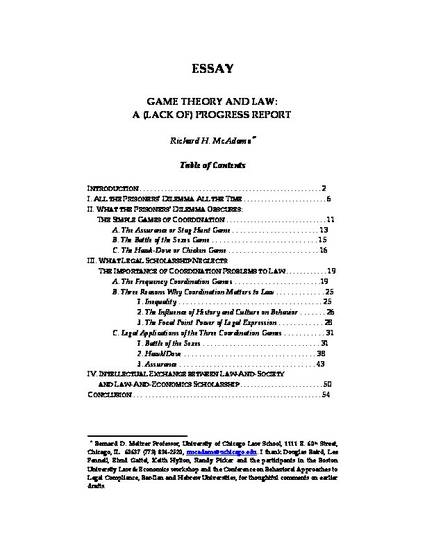 Unpublished Paper
Game Theory and Law: A (Lack of) Progress Report
ExpressO (2008)
Abstract
This essay reviews the state of game theory in legal scholarship and finds that it remains excessively focused on one tool: the Prisoners' Dilemma. I claim that this focus is not justified, that it distracts legal scholars from exploiting other insights of game theory, particularly the problem of coordination. I show how the need for coordination is as pervasive and important to law as the Prisoners' Dilemma, illustrating with game theory discussions of constitutional law, international law, property disputes, traffic, culture, gender roles, and many other topics.
Publication Date
August 15, 2008
Citation Information
Richard H. McAdams. "Game Theory and Law: A (Lack of) Progress Report"
ExpressO
(2008)
Available at: http://works.bepress.com/richard_mcadams/2/