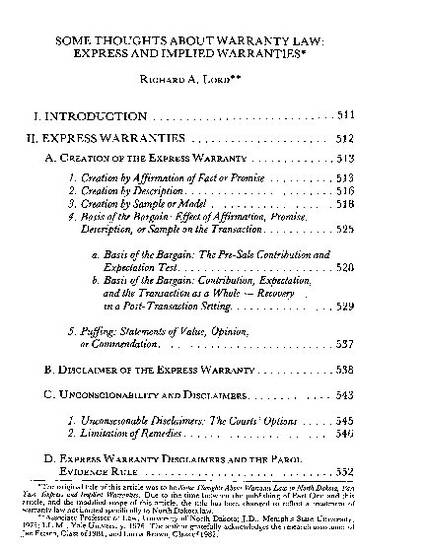 Article
Some Thoughts About Warranty Law: Express and Implied Warranties
Notre Dame Law Review
Abstract
This article will conclude the author's consideration of warranty law in North Dakota, which began with an explanation of some of the more interesting aspects of the warranty of title. It is the goal of this article to explore some of the problems that occur with respect to express and implied warranties which arise in connection with the sale of goods. To that end, the article will first discuss the way in which these warranties arise, including their history and status, some of the more recent developments in this state, and finally probable future prospects. The practitioner should be aware of relatively recent federal legislation, the Magnuson-Moss Federal Trade Commission Improvement Act, which will greatly expand the applicability of implied warranties. A full discussion of this federal law is beyond the scope of this article. In addition, the recent developments in the law of strict liability and products liability which complement and overlap warranty law are beyond the scope of this article.
Citation Information
Richard A. Lord,
Some Thoughts About Warranty Law: Express and Implied Warranties
, 56 N.D. L. Rev. 4 (1980).