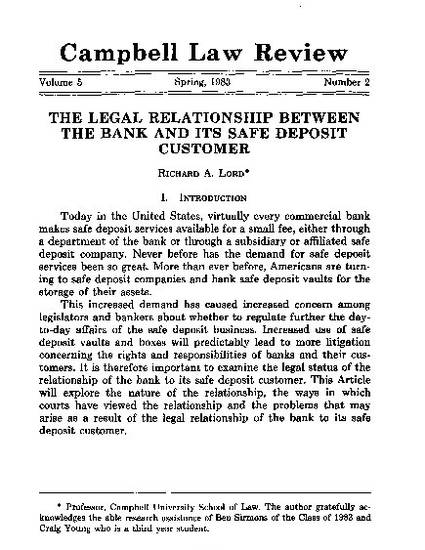 Article
The Legal Relationship Between the Bank and its Safe Deposit Customer
Campbell Law Review
Abstract
Today in the United States, virtually every commercial bank makes safe deposit services available for a small fee, either through a department of the bank or through a subsidiary or affiliated safe deposit company. Never before has the demand for safe deposit services been so great. More than ever before, Americans are turning to safe deposit companies and bank safe deposit vaults for the storage of their assets. This increased demand has caused increased concern among legislators and bankers about whether to regulate further the day-to-day affairs of the safe deposit business. Increased use of safe deposit vaults and boxes will predictably lead to more litigation concerning the rights and responsibilities of banks and their customers. It is therefore important to examine the legal status of the relationship of the bank to its safe deposit customer. This Article will explore the nature of the relationship, the ways in which courts have viewed the relationship and the problems that may arise as a result of the legal relationship of the bank to its safe deposit customer.
Citation Information
Richard A. Lord,
The Legal Relationship Between the Bank and its Safe Deposit Customer
, 5 Campbell L. Rev. 263 (1983).