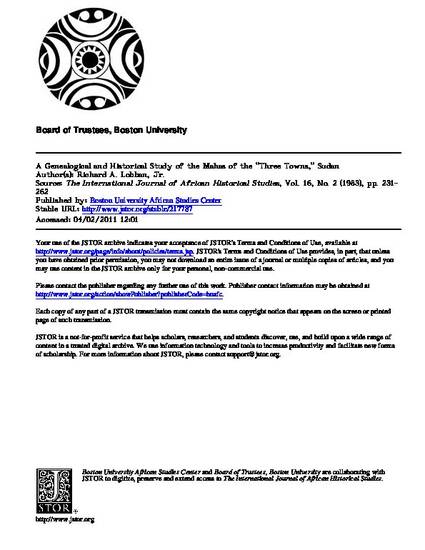 Article
A Genealogical and Historical Study of the Mahas of the "Three Towns," Sudan
Faculty Publications
Department (Manual Entry)
Dept. of Anthropology
Abstract
The Mahas (a Nubian ethnic group) in the central Sudan have made a fundamental contribution to the Islamization and urbanization of this Afro-Arab nation. Their building of the first permanent structures in the "Three Towns" (Khartoum area) may be claimed as the start of the modern process of Sudanese urbanization. The Mahas leaders who became teachers and advisors to the Funj state were also centrally responsible for the spread of Islam along the Blue and White Niles at their confluence at the "Three Towns" in communities which have been occupied continuously for about five centuries.
Date of Original Version
1-1-1983
Source Data
The International Journal of African Historical Studies, Vol. 16, No. 2 (1983) , pp (231-262)
Citation Information
Lobban, R. A. (1983). A genealogical and historical study of the Mahas of the "Three Towns," Sudan.
International Journal of African Historical Studies, 16
(2), 231-262. https://doi.org/10.2307/217787