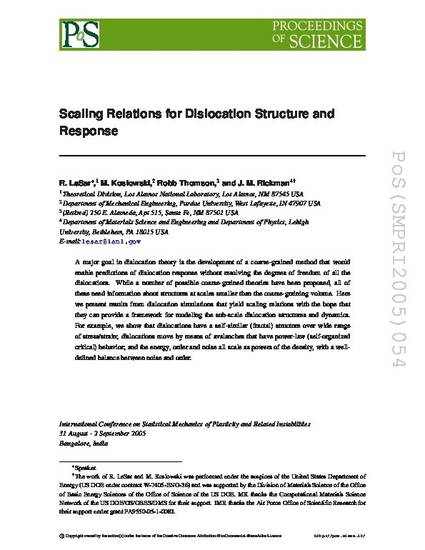 Presentation
Scaling Relations for Dislocation Structure and Response
International Conference on Statistical Mechanics of Plasticity and Related Instabilities (2005)
Abstract
A major goal in dislocation theory is the development of a coarse-grained method that would enable predictions of dislocation response without resolving the degrees of freedom of all the dislocations. While a number of possible coarse-grained theories have been proposed, all of these need information about structures at scales smaller than the coarse-graining volume. Here we present results from dislocation simulations that yield scaling relations with the hope that they can provide a framework for modeling the sub-scale dislocation structures and dynamics. For example, we show that dislocations have a self-similar (fractal) structure over wide range of stress/strain; dislocations move by means of avalanches that have power-law (self-organized critical) behavior; and the energy, order and noise all scale as powers of the density, with a welldefined balance between noise and order.
Publication Date
September, 2005
Citation Information
Richard Alan Lesar, M. Koslowski, Robb Thomson and J. M. Rickman. "Scaling Relations for Dislocation Structure and Response"
International Conference on Statistical Mechanics of Plasticity and Related Instabilities
(2005)
Available at: http://works.bepress.com/richard_lesar/43/