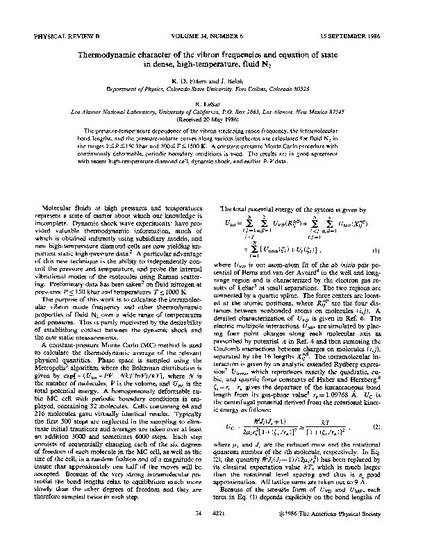 Article
Thermodynamic character of the vibron frequencies and equation of state in dense, high-temperature, fluid N 2
Physical Review B (1986)
Abstract
The pressure-temperature dependence of the vibron stretching mode frequency, the intramolecular bond lengths, and the pressure-volume curves along various isotherms are calculated for fluid N 2 in the ranges 2≤P≤150 kbar and 300≤T≤1500 K. A constant-pressure Monte Carlo procedure with continuously deformable, periodic boundary conditions is used. The results are in good agreement with recent high-temperature diamond cell, dynamic shock, and earlier P-V data.
Publication Date
September 15, 1986
Citation Information
R. D. Etters, J. Belak and Richard Alan Lesar. "Thermodynamic character of the vibron frequencies and equation of state in dense, high-temperature, fluid N 2"
Physical Review B
Vol. 34 Iss. 6 (1986)
Available at: http://works.bepress.com/richard_lesar/31/