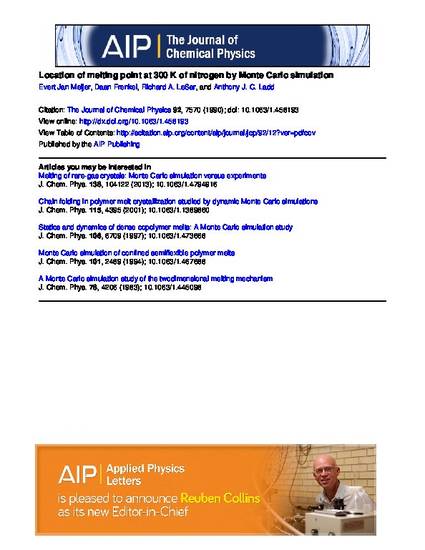 Article
Location of melting point at 300 K of nitrogen by Monte Carlo simulation
Journal of Chemical Physics (1990)
Abstract
We present an accurate new method to compute absolute free energies of molecular solids by computer simulations. As a first application, we computed the thermodynamicphase transition between the fluid phase and the orientational disordered solid β phase of nitrogen at 300 K, using a well tested pair potential. The computed coexistence pressure and the volume change coincides within the error margins with the experimental values. The coexistence volume differed by 2% from the experimental value. To our knowledge these results constitutes the first numerical calculation of the thermodynamic stability for a model of a realistic molecular solid.
Keywords
molecular solids,
computer simulation,
disordered solids,
free energy,
melting
Citation Information
Evert Jan Meijer, Daan Frenkel, Richard Alan Lesar and Anthony J.C. Ladd. "Location of melting point at 300 K of nitrogen by Monte Carlo simulation"
Journal of Chemical Physics
Vol. 92 (1990)
Available at: http://works.bepress.com/richard_lesar/19/