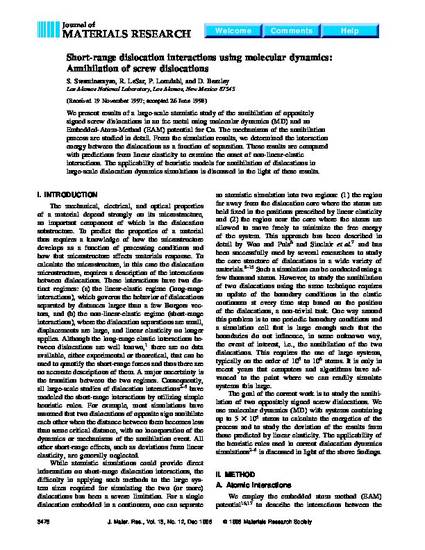 Article
Short-range dislocation interactions using molecular dynamics: Annihilation of screw dislocations
Journal of Materials Research (1998)
Abstract
We present results of a large-scale atomistic study of the annihilation of oppositely signed screw dislocations in an fcc metal using molecular dynamics (MD) and an Embedded-Atom-Method (EAM) potential for Cu. The mechanisms of the annihilation process are studied in detail. From the simulation results, we determined the interaction energy between the dislocations as a function of separation. These results are compared with predictions from linear elasticity to examine the onset of non-linear-elastic interactions. The applicability of heuristic models for annihilation of dislocations in large-scale dislocation dynamics simulations is discussed in the light of these results.
Publication Date
January 31, 1998
Citation Information
S. Swaminarayan, Richard Alan Lesar, P. Lomdahl and D. Beazley. "Short-range dislocation interactions using molecular dynamics: Annihilation of screw dislocations"
Journal of Materials Research
Vol. 13 Iss. 12 (1998)
Available at: http://works.bepress.com/richard_lesar/12/