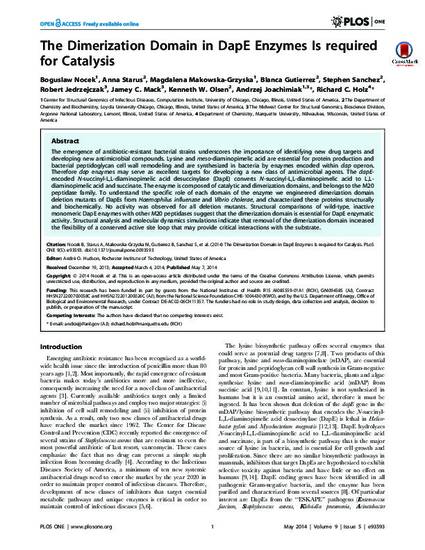 Article
The Dimerization Domain in DapE Enzymes Is Required for Catalysis
PLoS One
Publication Date
5-7-2014
Abstract
The emergence of antibiotic-resistant bacterial strains underscores the importance of identifying new drug targets and developing new antimicrobial compounds. Lysine and meso-diaminopimelic acid are essential for protein production and bacterial peptidoglycan cell wall remodeling and are synthesized in bacteria by enzymes encoded within dap operon. Therefore dap enzymes may serve as excellent targets for developing a new class of antimicrobial agents. The dapE-encoded N-succinyl-L,L-diaminopimelic acid desuccinylase (DapE) converts N-succinyl-L,L-diaminopimelic acid to L,Ldiaminopimelic acid and succinate. The enzyme is composed of catalytic and dimerization domains, and belongs to the M20 peptidase family. To understand the specific role of each domain of the enzyme we engineered dimerization domain deletion mutants of DapEs from Haemophilus influenzae and Vibrio cholerae, and characterized these proteins structurally and biochemically. No activity was observed for all deletion mutants. Structural comparisons of wild-type, inactive monomeric DapE enzymes with other M20 peptidases suggest that the dimerization domain is essential for DapE enzymatic activity. Structural analysis and molecular dynamics simulations indicate that removal of the dimerization domain increased the flexibility of a conserved active site loop that may provide critical interactions with the substrate.
Citation Information
Boguslaw Nocek, Anna Starus, Magdalena Makowska-Grzyska, Blanca Gutierrez, et al.. "The Dimerization Domain in DapE Enzymes Is Required for Catalysis"
PLoS One
(2014) ISSN: 1932-6203
Available at: http://works.bepress.com/richard_holz/55/