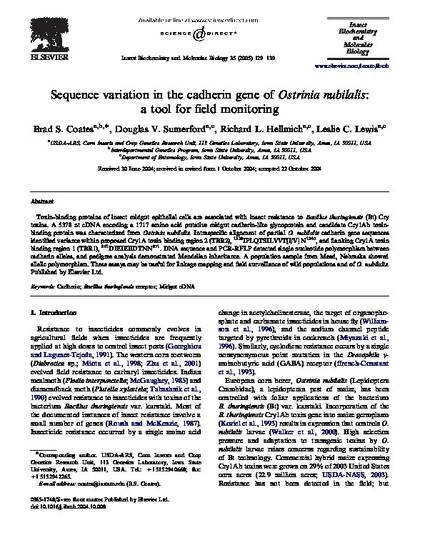 Article
Sequence variation in the cadherin gene of Ostrinia nubilalis: a tool for field monitoring
Insect Biochemistry and Molecular Biology
Publication Date
10-1-2004
DOI
10.1016/j.ibmb.2004.10.008
Abstract
Toxin-binding proteins of insect midgut epithelial cells are associated with insect resistance to Bacillus thuringiensis (Bt) Cry toxins. A 5378 nt cDNA encoding a 1717 amino acid putative midgut cadherin-like glycoprotein and candidate Cry1Ab toxin-binding protein was characterized from Ostrinia nubilalis. Intraspecific alignment of partial O. nubilalis cadherin gene sequences identified variance within proposed Cry1A toxin binding region 2 (TBR2), 1328IPLQTSILVVT[I/V] N1340, and flanking Cry1A toxin binding region 1 (TBR1), 861DIEIEIIDTNN871. DNA sequence and PCR-RFLP detected single nucleotide polymorphism between cadherin alleles, and pedigree analysis demonstrated Mendelian inheritance. A population sample from Mead, Nebraska showed allelic polymorphism. These assays may be useful for linkage mapping and field surveillance of wild populations and of O. nubilalis.
Rights
Works produced by employees of the U.S. Government as part of their official duties are not copyrighted within the U.S. The content of this document is not copyrighted.
File Format
application/pdf
Citation Information
Brad S. Coates, Douglas V. Sumerford, Richard L. Hellmich and Leslie C. Lewis. "Sequence variation in the cadherin gene of Ostrinia nubilalis: a tool for field monitoring"
Insect Biochemistry and Molecular Biology
Vol. 35 Iss. 2 (2004) p. 129 - 139
Available at: http://works.bepress.com/richard_hellmich/71/