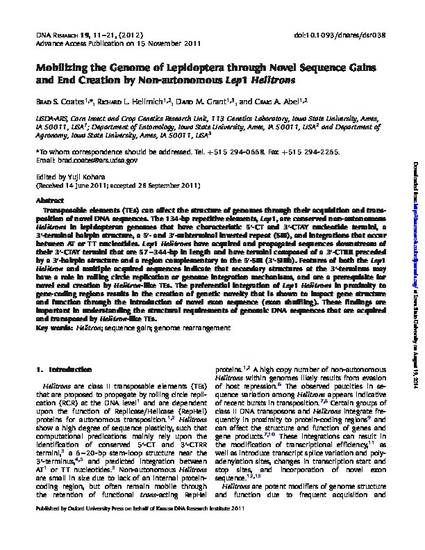 Article
Mobilizing the genome of Lepidoptera through novel sequence gains and end creation by non-autonomous Lep1 Helitrons
DNA Research
Publication Date
11-1-2012
DOI
10.1093/dnares/dsr038
Abstract
Transposable elements (TEs) can affect the structure of genomes through their acquisition and transposition of novel DNA sequences. The 134-bp repetitive elements, Lep1, are conserved non-autonomous Helitrons in lepidopteran genomes that have characteristic 5'-CT and 3'-CTAY nucleotide termini, a 3'-terminal hairpin structure, a 5'- and 3'-subterminal inverted repeat (SIR), and integrations that occur between AT or TT nucleotides. Lep1 Helitrons have acquired and propagated sequences downstream of their 3'-CTAY termini that are 57-344-bp in length and have termini composed of a 3'-CTRR preceded by a 3'-hairpin structure and a region complementary to the 5'-SIR (3'-SIRb). Features of both the Lep1 Helitron and multiple acquired sequences indicate that secondary structures at the 3'-terminus may have a role in rolling circle replication or genome integration mechanisms, and are a prerequisite for novel end creation by Helitron-like TEs. The preferential integration of Lep1 Helitrons in proximity to gene-coding regions results in the creation of genetic novelty that is shown to impact gene structure and function through the introduction of novel exon sequence (exon shuffling). These findings are important in understanding the structural requirements of genomic DNA sequences that are acquired and transposed by Helitron-like TEs.
Rights
Works produced by employees of the U.S. Government as part of their official duties are not copyrighted within the U.S. The content of this document is not copyrighted.
File Format
application/pdf
Citation Information
Brad S. Coates, Richard L. Hellmich, David M. Grant and Craig A. Abel. "Mobilizing the genome of Lepidoptera through novel sequence gains and end creation by non-autonomous Lep1 Helitrons"
DNA Research
Vol. 19 Iss. 1 (2012) p. 11 - 21
Available at: http://works.bepress.com/richard_hellmich/6/