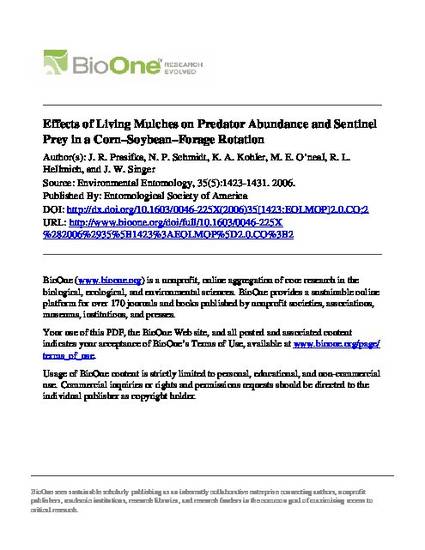 Article
Effects of Living Mulches on Predator Abundance and Sentinel Prey in a Corn–Soybean–Forage Rotation
Environmental Entomology
Publication Date
10-2-2006
DOI
10.1603/0046-225X(2006)35[1423:EOLMOP]2.0.CO;2
Abstract
Living mulches are cover crops grown concurrently within main crops for their benefits to weed control and soil quality. Because living mulches increase the diversity of vegetation in agricultural systems, they may impact the abundance or effectiveness of natural enemies. To examine the effects of living mulches on epigeal predators, arthropod abundance and feeding were examined in a rotation of corn (Zea mays L.), soybean (Glycine max L. Merr.), and forage crops in 2004 and 2005. Compared with a no-mulch control, the presence of alfalfa (Medicago sativa L.) and kura clover (Trifolium ambiguum M. Bieb.) mulches in corn and soybean increased predator abundance and consumption of European corn borer (Ostrinia nubilalis Hübner; Lepidoptera: Crambidae) pupae used as sentinel prey. A complementary effect of increased predation caused by corn and soybean was found when both annual crops with living mulches were compared with mulches grown alone. Positive correlations between the percentage of O. nubilalis pupae preyed on and ground beetle (Coleoptera: Carabidae) abundance suggest carabids contributed to the differences in predation. In 2005, fewer beetles correlated with consumption of O. nubilalis pupae [Poecilus chalcites (Say) andScarites quadriceps Chaudior] were collected, and living mulch impacts on predation were less frequent. Both changes could be related to delayed herbicidal suppression of the living mulches in 2005, which seemed to homogenize predator community composition among the corn, soybean, and forage plots. Although living mulches alone may not provide sufficient pest suppression, their potential to enhance biological control should be considered along with their other agronomic benefits.
Rights
This article is the copyright property of the Entomological Society of America and may not be used for any commercial or other private purpose without specific written permission of the Entomological Society of America.
Copyright Owner
Entomological Society of America
Citation Information
Jarrad R Prasifka, Nicholas Schmidt, Keith A Kohler, Matthew E. O'Neal, et al.. "Effects of Living Mulches on Predator Abundance and Sentinel Prey in a Corn–Soybean–Forage Rotation"
Environmental Entomology
Vol. 35 Iss. 5 (2006) p. 1423 - 1431
Available at: http://works.bepress.com/richard_hellmich/46/