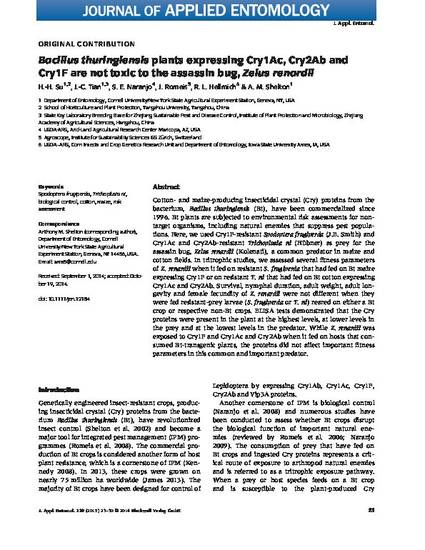 Article
Bacillus thuringiensis plants expressing Cry1Ac, Cry2Ab and Cry1F are not toxic to the assassin bug, Zelus renardii
Journal of Applied Entomology
Publication Version
Published Version
Publication Date
2-1-2015
Abstract
Cotton‐ and maize‐producing insecticidal crystal (Cry) proteins from the bacterium, Bacillus thuringiensis (Bt), have been commercialized since 1996. Bt plants are subjected to environmental risk assessments for non‐target organisms, including natural enemies that suppress pest populations. Here, we used Cry1F‐resistant Spodoptera frugiperda (J.E. Smith) and Cry1Ac and Cry2Ab‐resistant Trichoplusia ni (Hübner) as prey for the assassin bug, Zelus renardii (Kolenati), a common predator in maize and cotton fields. In tritrophic studies, we assessed several fitness parameters of Z. renardii when it fed on resistant S. frugiperda that had fed on Bt maize expressing Cry1F or on resistant T. ni that had fed on Bt cotton expressing Cry1Ac and Cry2Ab. Survival, nymphal duration, adult weight, adult longevity and female fecundity of Z. renardii were not different when they were fed resistant‐prey larvae (S. frugiperda or T. ni) reared on either a Bt crop or respective non‐Bt crops. ELISA tests demonstrated that the Cry proteins were present in the plant at the highest levels, at lower levels in the prey and at the lowest levels in the predator. While Z. renardii was exposed to Cry1F and Cry1Ac and Cry2Ab when it fed on hosts that consumed Bt‐transgenic plants, the proteins did not affect important fitness parameters in this common and important predator.
Rights
Works produced by employees of the U.S. Government as part of their official duties are not copyrighted within the U.S. The content of this document is not copyrighted.
File Format
application/pdf
Citation Information
H.-H. Su, J.-C. Tian, S. E. Naranjo, J. Romeis, et al.. "Bacillus thuringiensis plants expressing Cry1Ac, Cry2Ab and Cry1F are not toxic to the assassin bug, Zelus renardii"
Journal of Applied Entomology
Vol. 139 Iss. 1-2 (2015) p. 23 - 30
Available at: http://works.bepress.com/richard_hellmich/196/