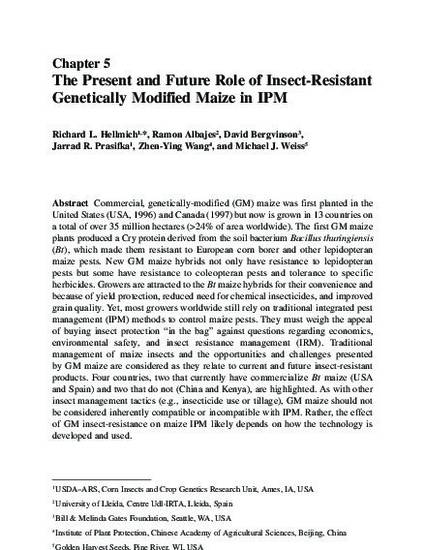 Article
The Present and Future Role of Insect-Resistant Genetically Modified Maize in IPM
Integration of Insect-Resistant Genetically Modified Crops within IPM Programs
Document Type
Book Chapter
Publication Date
1-1-2008
DOI
10.1007/978-1-4020-8373-0_5
Abstract
Commercial, genetically-modified (GM) maize was first planted in the United States (USA, 1996) and Canada (1997) but now is grown in 13 countries on a total of over 35 million hectares (>24% of area worldwide). The first GM maize plants produced a Cry protein derived from the soil bacteriumBacillus thuringiensis (Bt), which made them resistant to European corn borer and other lepidopteran maize pests. New GM maize hybrids not only have resistance to lepidopteran pests but some have resistance to coleopteran pests and tolerance to specific herbicides. Growers are attracted to the Btmaize hybrids for their convenience and because of yield protection, reduced need for chemical insecticides, and improved grain quality. Yet, most growers worldwide still rely on traditional integrated pest management (IPM) methods to control maize pests. They must weigh the appeal of buying insect protection "in the bag" against questions regarding economics, environmental safety, and insect resistance management (IRM). Traditional management of maize insects and the opportunities and challenges presented by GM maize are considered as they relate to current and future insect-resistant products. Four countries, two that currently have commercialize Bt maize (USA and Spain) and two that do not (China and Kenya), are highlighted. As with other insect management tactics (e.g., insecticide use or tillage), GM maize should not be considered inherently compatible or incompatible with IPM. Rather, the effect of GM insect-resistance on maize IPM likely depends on how the technology is developed and used.
Rights
Works produced by employees of the U.S. Government as part of their official duties are not copyrighted within the U.S. The content of this document is not copyrighted.
File Format
application/pdf
Citation Information
Richard L Hellmich, Ramon Albajes, David Bergvinson, Jarrad R Prasifka, et al.. "The Present and Future Role of Insect-Resistant Genetically Modified Maize in IPM"
Integration of Insect-Resistant Genetically Modified Crops within IPM Programs
(2008) p. 119 - 158
Available at: http://works.bepress.com/richard_hellmich/125/