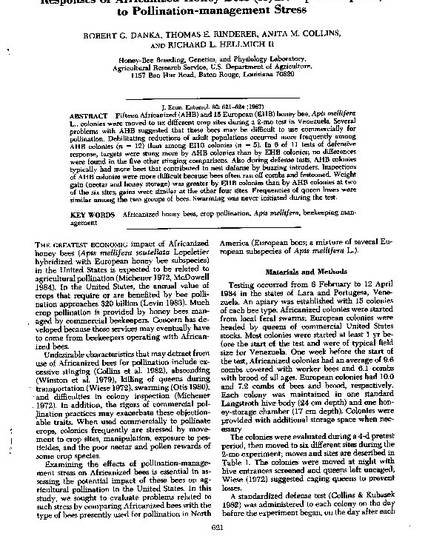 Article
Responses of africanized honey bees hymenoptera apidae to pollination management stress
Journal of Economic Entomology (1987)
Abstract
Fifteen Africanized (AHB) and 15 European (EHB) honey bee, Apis mellifera L., colonies were moved to six different crop sites during a 2-mo test in Venezuela. Several problems with AHB suggested that these bees may be difficult to use commerically for pollination. Debilitating reductions of adult populations occurred more frequently among AHB colonies (n = 12) than among EHB colonies (n = 5). In 6 of 11 tests of defensive response, targets were stung more by AHB colonies than by EHB colonies; no differences were found in the five other stinging comparisons. Also during defense tests, AHB colonies typically had more bees that contributed to nest defense by buzzing intruders. Inspections of AHB colonies were more difficult because bees often ran off combs and festooned. Weight gain (nectar and honey storage) was greater by EHB colonies than by AHB colonies at two of the six sites; gains were similar at the other four sites. Frequencies of queen losses were similar among the two groups of bees. Swarming was never initiated during the test.
Citation Information
Robert G. Danka, Thomas E. Rinderer, Anita M. Collins and Richard L Hellmich. "Responses of africanized honey bees hymenoptera apidae to pollination management stress"
Journal of Economic Entomology
Vol. 80 Iss. 3 (1987)
Available at: http://works.bepress.com/richard_hellmich/109/