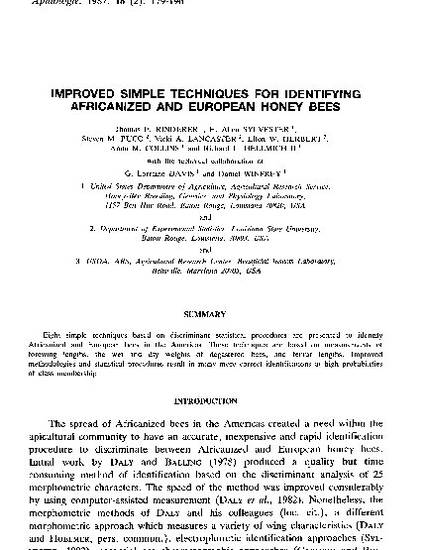 Article
Improved Simple Techniques for Identifying Africanized and European Honey Bees
Apidologie (1987)
Abstract
Eight simple techniques based on discriminant statistical procedures are presented to identify Africanized and European bees in the Americas. These techniques arc based on measurements of forewing lengths, the wet and dry weights of degastered bees, and femur lengths. Improved methodologies and statistical procedures result in many more correct identifications at high probabilities of class membership.
Citation Information
Thomas E. Rinderer, H. Allen Sylvester, Steven M. Buco, Vicki A. Lancaster, et al.. "Improved Simple Techniques for Identifying Africanized and European Honey Bees"
Apidologie
Vol. 18 Iss. 2 (1987)
Available at: http://works.bepress.com/richard_hellmich/108/