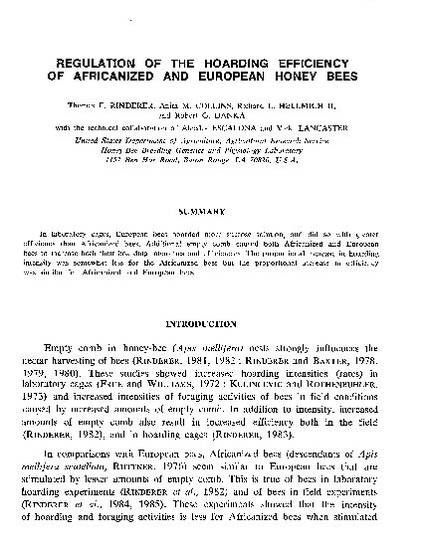 Article
Regulation of the Hoarding Efficiency of Africanized and European Honey Bees
Apidologie (1986)
Abstract
In laboratory cages, European bees hoarded more sucrose solution, and did so with greater efficiency than Africanized bees. Additional empty comb caused both Africanized and European bees to increase both their hoarding intensities and efficiencies. The proportional increase in hoarding intensity was somewhat less for the Africanized bees but the proportional increase in efficiency was similar for Africanized and European bees.
Citation Information
Anita M. Collins, Thomas E. Rinderer, Richard L Hellmich and Robert G. Danka. "Regulation of the Hoarding Efficiency of Africanized and European Honey Bees"
Apidologie
Vol. 17 Iss. 3 (1986)
Available at: http://works.bepress.com/richard_hellmich/104/