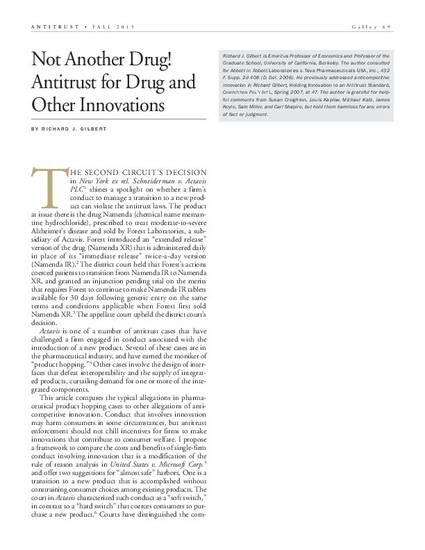 Article
Not Another Drug! Antitrust for Drug and Other Innovations
Antitrust (2015)
Abstract
A number of antitrust cases have challenged firm conduct associated with the introduction of a new product.  Several are in the pharmaceutical industry and have earned the moniker of "product hopping." Other cases involve the design of interfaces that defeat interoperability and the supply of integrated products that curtail demand for one or more of the integrated components. I propose a framework to compare the costs and benefits of single-firm conduct involving innovation and offer two suggestions for "almost safe" harbors.  One is a transition to a new product that is accomplished without constraining consumer choices among existing products.  The second "almost safe" harbor is for the development of an improved product, interface or design that impacts the supply of complementary products or services, provided that these complements do not offer a pathway for competition that would undermine monopoly power.
Publication Date
Fall 2015
Citation Information
Richard J Gilbert. "Not Another Drug! Antitrust for Drug and Other Innovations"
Antitrust
(2015)
Available at: http://works.bepress.com/richard_gilbert/35/