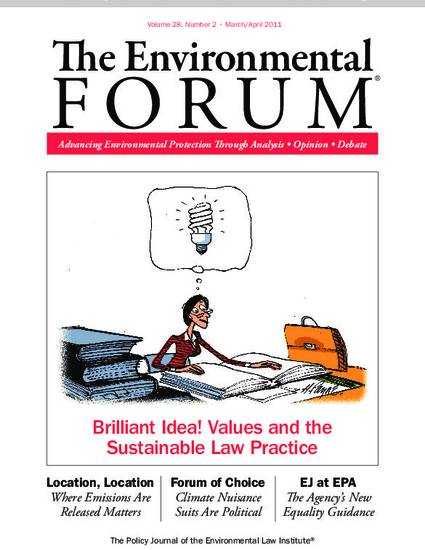 Article
A Political Question: Public Nuisance, Climate Change and the Courts
The Environmental Forum (2011)
Abstract
When it comes to climate change regulation, one of the great discussions of our day is whether the political branches of government or the judiciary should lead the way. Is it appropriate or wise to use the crucible of the courtroom to forge standards regarding what emission levels are, and are not, acceptable? In other words, is the use of tort litigation in this context a legitimate judicial exercise, or does the judiciary overstep its bounds by reaching impermissibly into the political sphere? Although the poet's imagination may dream of leaping to seize an otherwise inaccessible prize, wise jurists know that the common law progresses in a measured series of carefully considered steps — each firmly grounded on traditional principles. Departing from that path, as climate plaintiffs suggest, to blaze trails through uncharted territory is an adventure best entrusted to politicians.
Keywords
political question,
public nuisance,
climate change,
global warming,
connecticut,
american electric power,
Supreme Court,
Faulk,
Gray,
Gardere
Publication Date
Winter March, 2011
Citation Information
Richard O. Faulk and John S. Gray. "A Political Question: Public Nuisance, Climate Change and the Courts"
The Environmental Forum
Vol. 28 Iss. 2 (2011)
Available at: http://works.bepress.com/richard_faulk/54/