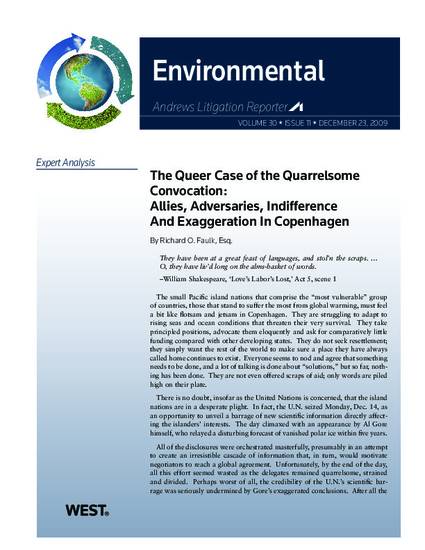 Article
The Queer Case of the Quarelsome Convocation: Allies, Adversaries, Indifference and Exaggeration in Copenhagen
Andrews Litigation Reporter (2009)
Abstract
There's no doubt, insofar as the UN is concerned, that the island nations are in desperate plight. In fact, the UN seized yesterday as an opportunity to unveil a barrage of new scientific information directly affecting the islanders' interests. The day climaxed with an appearance by Al Gore himself, who relayed a disturbing forecast of vanished polar ice within five years. All of the disclosures were orchestrated masterfully, presumably in an attempt to create an irresistible cascade of information which, in turn, would motivate negotiators to reach a global agreement. Unfortunately, by the end of the day, all of this effort seemed wasted as the delegates remained quarrelsome, strained and divided. Perhaps worst of all, the credibility of the UN's scientific barrage was seriously undermined by Gore's exaggerated conclusions. After all of the argumentative water receded, the desperate islanders remained stranded just as they were when the day began.
Publication Date
December 23, 2009
Citation Information
Richard Faulk. "The Queer Case of the Quarelsome Convocation: Allies, Adversaries, Indifference and Exaggeration in Copenhagen"
Andrews Litigation Reporter
Vol. 30 Iss. 11 (2009)
Available at: http://works.bepress.com/richard_faulk/35/