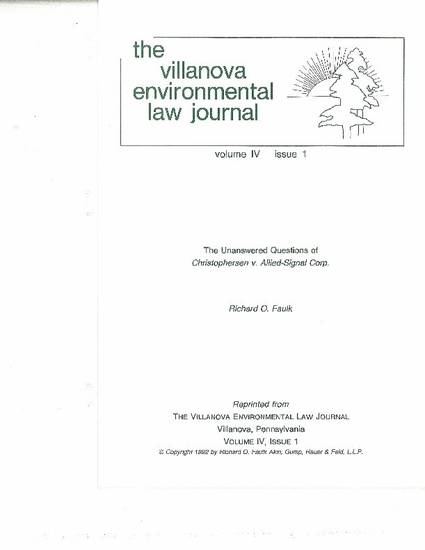 Article
The Unanswered Questions of Christopherson v. Allied Signal Corporation
Villanova Environmental Law Journal (1992)
Abstract
In Christophersen v. Allied-Signal Corp. , the Fifth Circuit sitting en banc announced a controversial new test for evaluating the admissibility of scientific evidence. An earlier panel decision reversed a summary judgment for the defendant chemical manufacturers, holding that the testimony of the plaintiffs' expert regarding cancer causation was not so fundamentally unreliable that it should be excluded from jury consideration. On rehearing en banc, a divided court disagreed with the panel decision and affirmed the district court's summary judgment rendered on behalf of the chemical manufacturers. In general, the court required experts to base their opinions upon facts which are reasonably relied upon by experts in their field. The court also required the opinions to be derived through generally accepted scientific methods. Despite a concerted attempt to resolve general scientific evidence issues, the Christophersen court left many important questions unanswered. Most importantly, the court did not provide district courts with any guidance for cases where the experts disagree concerning the necessity for certain facts or the appropriateness of particular methodologies.
Citation Information
Richard O. Faulk. "The Unanswered Questions of Christopherson v. Allied Signal Corporation"
Villanova Environmental Law Journal
Vol. 4 Iss. 1 (1992)
Available at: http://works.bepress.com/richard_faulk/11/