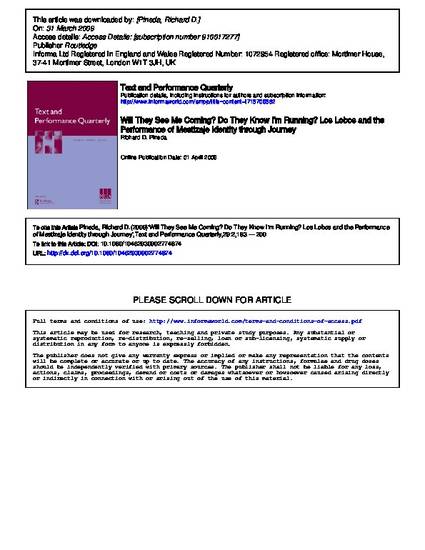 Article
Will They See Me Coming? Do They Know I'm Running? Los Lobos and the Performance of Mestizaje Identity through Journey
Text and Performance Quarterly (2009)
Abstract
Los Lobos' album The Town and The City represents a lyrical narrative and performance of journey. The album's strength and appeal is that it offers a poignant commentary on journey at time when the odyssey undertaken by immigrants to the United States are often demonized, misunderstood, or purposefully manipulated for political benefit. I argue in this essay that the Los Lobos album illustrates and complicates the performance of Chicana/o identity, mestizaje, and hybridity through the metaphor of journey. This metaphorical journey is represented as both a process and event that establishes a sense of connectivity for audiences.
Keywords
The Town and The City; Chicana/o; Popular music; Immigration
Citation Information
Richard D. Pineda. "Will They See Me Coming? Do They Know I'm Running? Los Lobos and the Performance of Mestizaje Identity through Journey"
Text and Performance Quarterly
Vol. 29 Iss. 2 (2009)
Available at: http://works.bepress.com/richard_d_pineda/1/