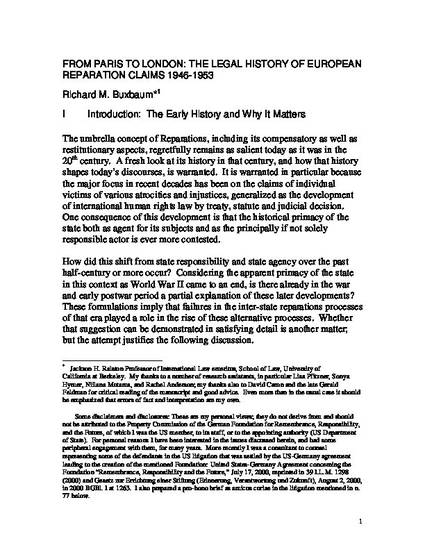 Unpublished Paper
FROM PARIS TO LONDON: THE LEGAL HISTORY OF EUROPEAN REPARATION CLAIMS 1946-1953
ExpressO (2012)
Abstract
The umbrella concept of Reparations, including its compensatory as well as restitutionary aspects, regretfully remains as salient today as it was in the 20th century. A fresh look at its history in that century, and how that history shapes today's discourses, is warranted. It is warranted in particular because the major focus in recent decades has been on the claims of individual victims of various atrocities and injustices, generalized as the development of international human rights law by treaty, statute and judicial decision. One consequence of this development is that the historical primacy of the state both as agent for its subjects and as the principally if not solely responsible actor is ever more contested.
This paper reviews the early postwar history of various reparations classes in the shadow of their later shift from interstate to individual-state framing.
Publication Date
August 24, 2012
Citation Information
Richard M. Buxbaum. "FROM PARIS TO LONDON: THE LEGAL HISTORY OF EUROPEAN REPARATION CLAIMS 1946-1953"
ExpressO
(2012)
Available at: http://works.bepress.com/richard_buxbaum/1/