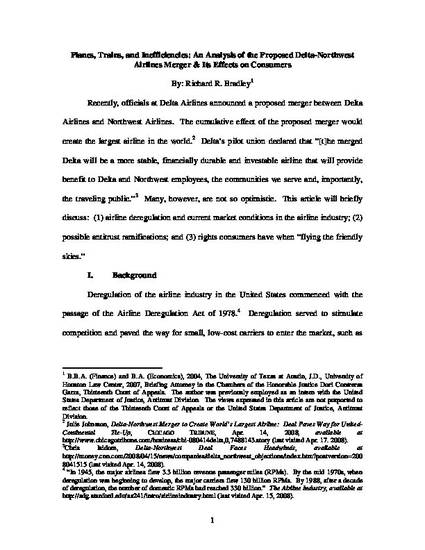 Article
Planes, Trains, and Inefficiencies: An Analysis of the Proposed Delta-Northwest Airlines Merger & Its Effects on Consumers
TexSupp, an online supplement to the Baylor Law Review (2008)
Abstract
This Article explores the proposed merger between Delta and Northwest Airlines within the context of antitrust law analysis and enforcement. In fact, this Article recognizes the trend of consolidation in the airline industry and how it will likely affect consumers. Finally, this Article cobbles together the hodgepodge of regulations governing the airline industry with respect to the rights of consumers.
Keywords
airline,
merger,
consumer rights
Publication Date
Summer 2008
Citation Information
Richard R. Bradley,
Planes, Trains, and Inefficiencies: An Analysis of the Proposed Delta-Northwest Airlines Merger & Its Effects on Consumers
TexSupp
(May 16, 2008),
available at
http://www.texsupp.com/2008/05/16/planes-trains-and-inefficiencies-an-analysis-of-the-proposed-delta-northwest-airlines-merger-and-its-effects-on-consumers/.