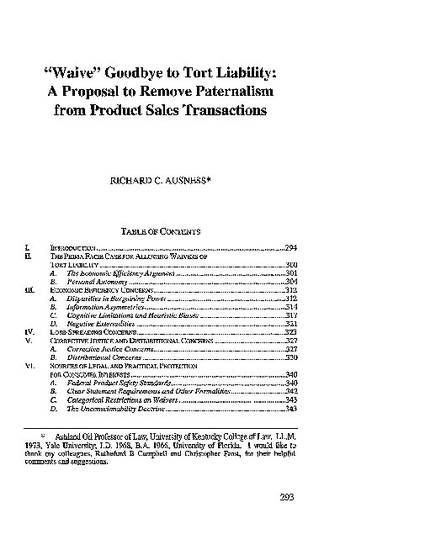 Article
"Waive" Goodbye to Tort Liability: A Proposal to Remove Paternalism from Product Sales Transactions
San Diego Law Review
Abstract
This Article argues that waivers of tort liability should be permitted in connection with product sales. Currently, sellers cannot limit their liability under tort law for personal injuries caused by defective products even though such waivers are allowed, albeit reluctantly, under principles of negligence and warranty law. Existing principles of products liability law should be modified, either by legislation or by court action, to allow at least limited use of these waivers.
Publication Date
4-1-2000
Citation Information
Richard C. Ausness,
"Waive" Goodbye to Tort Liability: A Proposal to Remove Paternalism from Product Sales Transactions
, 37 San Diego L. Rev. 293 (2000).