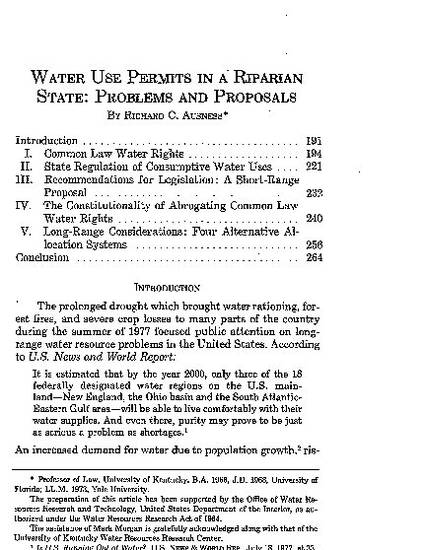 Article
Water Use Permits in a Riparian State: Problems and Proposals
Law Faculty Scholarly Articles
Abstract
Although adequate supplies of water are generally available in Kentucky, the law governing its use and allocation is much less satisfactory. At present, Kentucky water law is a complex mixture of common law and statutory water rights. The purpose of this article is to evaluate these water rights and suggest a number of improvements. Part I will examine the common law rules as they relate to both surface water and ground water. Part II will focus upon Kentucky's present system of statutory water use regulation and will identify some of its more serious deficiencies. Part III will recommend some short-range legislative revisions. Constitutional issues will be treated in Part IV and a few long-range alternatives will be considered in Part V.
Publication Date
1-1-1978
Citation Information
Richard C. Ausness,
Water Use Permits in a Riparian State: Problems and Proposals
, 66 Ky. L.J. 191 (1978).