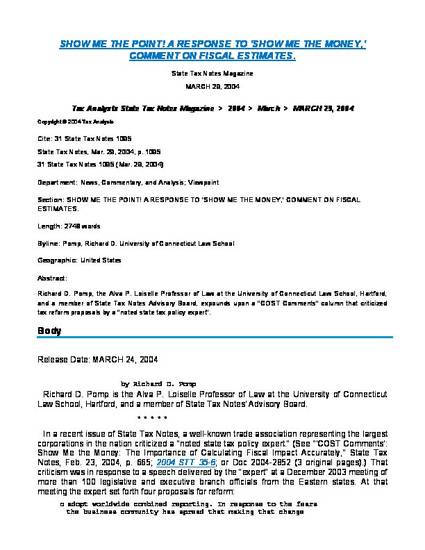 Article
Show Me The Point! A Response to 'Show Me The Money,' Comment on Fiscal Estimates
State Tax Notes (2004)
Abstract
In another State Tax Notes article, a trade association criticized the revenue estimates of a noted state tax policy expert who proposed four tax reform proposals to a conference of legislators. This article vindicates the tax expert's concerns and proposals, and debunks the trade association's myths. Furthermore, the article explains that the tax expert's estimates for new revenue were actually lower than the likely impact of legislation adopting his four proposals. The article concludes by calling for greater corporate transparency and intellectual honesty from the trade association.
Publication Date
March 29, 2004
Citation Information
Richard D. Pomp, Show Me The Point! A Response to 'Show Me The Money,' Comment on Fiscal Estimates, 31 State Tax Notes 1095 (2004).