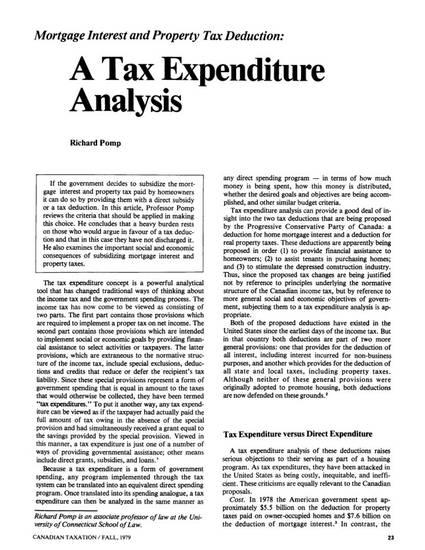 Article
Mortgage Interest and Property Tax Deduction: A Tax Expenditure Analysis
Canada Taxation (1979)
Abstract
The Progressive Conservative Party of Canada proposed two income tax deductions: (1) a home mortgage interest deduction, and (2) a property tax deduction. These two deductions have existed in the United States since the early days of the income tax. If the Canadian government wants to subsidize homeowners' mortgage interest and property taxes, it can either provide a deduction or a direct subsidy. This article analyzes the decision by outlining factors to consider when making this choice. The first section explains the three main criticisms of these deductions as tax expenditures in the United States: cost, inequity, and inefficiency. The next section reveals the erroneous argument that these deductions are necessary to provide equity between renters and homeowners. The article concludes by explaining the political nature of the decision, and some alternative methods of encouraging homeownership outside of tax incentives.
Citation Information
Richard D. Pomp, Mortgage Interest and Property Tax Deduction: A Tax Expenditure Analysis, 1 Can. Tax'n 23 (1979).