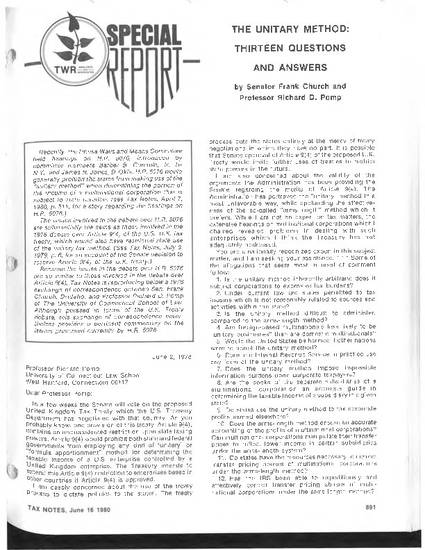 Article
The Unitary Method: Thirteen Questions and Answers
Tax Notes (1980)
Abstract
The House Ways and Means Committee recently introduced H.R. 5076, which would generally prohibit states from using the "unitary method" to determine a multinational corporation's portion of taxable income. The issues involved in the debate over this resolution are similar to those involved in the 1978 debate over Article 9(4) of the U.S.-U.K. tax treaty, which would also have restricted the states' ability to utilize the unitary method.
This article is the reproduced correspondence between Senator Frank Church and Professor Richard D. Pomp. Sen. Church poses thirteen questions to Professor Pomp regarding the unitary method. Professor Pomp provides answers to Sen. Church's questions in an attempt to allay congressional concerns about states' use of the unitary method. Additionally, Professor Pomp debunks the erroneous belief that the "arms-length method" is necessarily superior to the unitary method.
Publication Date
June 16, 1980
Citation Information
Senator Frank Church & Richard D. Pomp, The Unitary Method: Thirteen Questions and Answers, X Tax Notes 891 (1980).