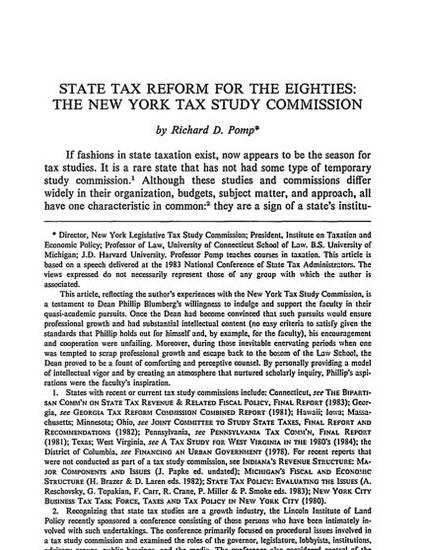 Article
State Tax Reform for the Eighties: The New York Tax Study Commission
Connecticut Law Review (1984)
Abstract
Temporary state tax commissions are inherently weak, and an inadequate response to a changing economy. The traditional state tax system is under attack due to technological advances, the rise of multinational corporations, federal tax legislation, and decreased federal regulation, among other factors. This article proposes the creation of a permanent institutional body to protect states' income tax systems. The first section of this article discusses the administrative limitations on state tax policy by analyzing New York's state tax system. This section explains that New York's system is aging and outdated, which causes inadministrability and failed enforcement. This section further analyzes the flaws of New York's state tax expenditures and distinctions in its sales tax. The second section explains the imprudent approach of states modeling their tax policies on the federal system. This section explains that states can avoid the complexities of the federal code due to their lower rates. The article concludes by advising states to eliminate unnecessary provisions to create a tax structure that is both simple and equitable.
Citation Information
Richard D. Pomp, State Tax Reform for the Eighties: The New York Tax Study Commission, 16 Conn. L. Rev. 925 (1984).