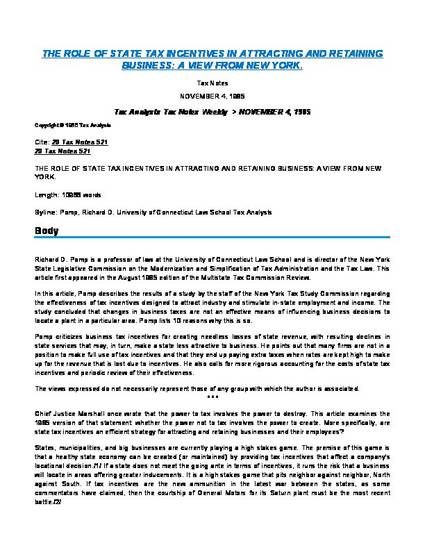 Article
The Role of State Tax Incentives in Attracting and Retaining Business: A View From New York
Tax Notes (1985)
Abstract
Historically, states have attempted to influence economic activity with tax policy. New York has endeavored to attract and maintain businesses through tax credits and other special provisions.  
This article describes the results of a study by the New York Tax Study Commission regarding the effectiveness of tax incentives. This study concluded that business tax incentives are not a major factor in business relocation decisions, and explains ten reasons for this conclusion. The next part of the article criticizes tax incentives for causing a loss of revenue and erosion of public services. Nonetheless, tax incentives remain attractive to legislators for political reasons. The article proposes a more precise accounting of forgone revenue caused by tax incentives, and a regular review of their effectiveness. The article concludes by explaining that focusing on tax policy as a substantial part of an economic development plan almost certainly will not have the impact that proponents claim.
Publication Date
November 4, 1985
Citation Information
Richard D. Pomp, The Role of State Tax Incentives in Attracting and Retaining Business: A View From New York, 29 Tax Notes 521 (1985).