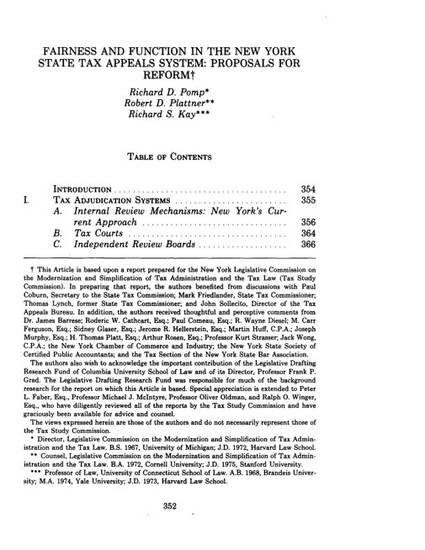 Article
Fairness and Function in the New York Tax Appeals System: Proposals for Reform
Albany Law Review (1985)
Abstract
The current New York tax appeals system conducted by the State Department of Taxation and Finance has been strongly criticized by tax lawyers and accountants. In 1979, the Governor's Temporary Commission to Review the Sales and Use Tax Laws recommended an independent tax appeals board. Furthermore, a 1984 report by the Office of the State Comptroller exposed issues in the handling of tax complaints. Criticisms of the New York system include inefficient processes, poor quality decisions, and unfair procedures.
This article analyzes these criticisms and considers alternative tax appeals systems. Section I examines the current New York system and the systems of other jurisdictions, including the federal government. This section describes the three different approaches to tax appeals: (1) tax courts, (2) independent review agencies, and (3) internal review mechanisms. Section II evaluates the criticisms of the current New York system. This section explains the system's major flaws, which include a lack of independence, lack of settlements, and inefficiency, among others. Section III argues that maintaining the current system would not allay taxpayers' fears of bias, and proposes six alternatives: (1) minor statutory changes, (2) settlement authority based on hazards of litigation, (3) removing the Commissioner of Taxation and Finance from the tax commission, (4) removing the regulatory functions from the tax commission, (5) an independent tribunal, and (6) a tax court. The article concludes by explaining that it is imperative for an alternative system to increase fairness and taxpayers' perceptions of fairness, as opposed to merely increasing efficiency.
Citation Information
Richard D. Pomp, Robert D. Plattner & Richard S. Kay, Fairness and Function in the New York Tax Appeals System: Proposals for Reform, 49 Alb. L. Rev. 352 (1985).