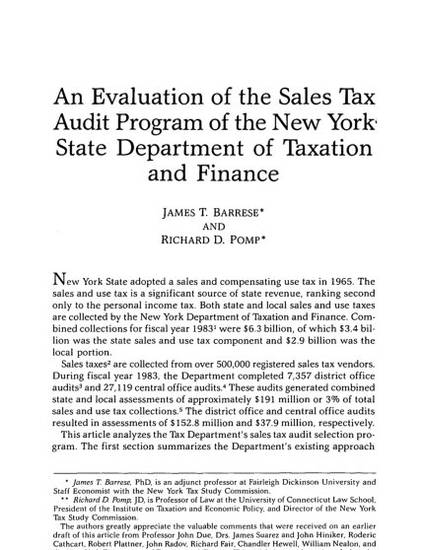 Article
An Evaluation of the Sales Tax Audit Program of the New York State Department of Taxation and Finance
Journal of State Taxation (1986)
Abstract
New York instituted a sales and use tax in 1965. This tax is the second largest source of revenue for the state, ranking only behind the income tax. This article examines the New York Tax Department's sales tax audit selection program. The first section discusses the Department's current approach, focusing on the Central Cell System (CCS). This section discusses the poor performance of the CCS compared to other audit selection methods. The next section analyzes both the audit program's overall results, and those of the CCS. This section determines that the CCS is implemented improperly by the state, but its design faults erode its audit selection suitability even if used properly. This section also discusses more sophisticated mathematical approaches available to the Department. The article concludes by proposing improvements to the CCS.
Citation Information
James T. Barrese & Richard D. Pomp, An Evaluation of the Sales Tax Audit Program of the New York State Department of Taxation and Finance, 5 J. St. Tax'n 3 (1986).