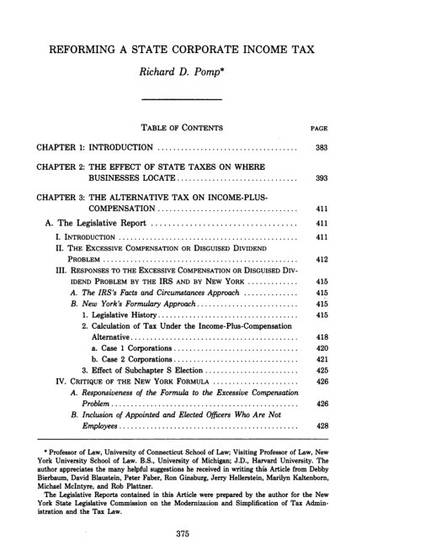 Article
Reforming a State Corporate Income Tax
Albany Law Review (1987)
Abstract
In 1987, Governor Cuomo signed the Business Tax Reform and Rate Reduction Act, which restructured New York's Article 9-A corporate income tax. This was the first major overhaul of the state's tax system since 1944. The process toward change began in 1981, when the legislature created the New York Tax Study Commission at the urging of Speaker of the Assembly Stanley Fink, who realized that the tax system needed an overhaul. The bipartisan Commission hired the author of this article as its first director in 1982. The Commission's first major project was a review of the Article 9-A corporate income tax.
This long article (413 pages and 1,046 footnotes), focuses on the findings of the Commission regarding Article 9-A, but also examines general issues surrounding state corporate income taxes. Chapter Two discusses the effect of state taxes on business location decisions, which was an instrumental factor in the development of New York's corporate income tax. The article continues with an explanation of the framework of New York's franchise tax statute prior to the 1987 Act, including four alternative methods a corporation could use to calculate its franchise tax: (1) a tax on income-plus-compensation, (2) a tax on capital, (3) a tax on entire net income, or (4) a minimum tax of $250. Chapter Three analyzes Article 9-A, and discusses the income-plus-compensation alternative. This alternative was a flawed attempt to solve the issue of excessive compensation, and was eliminated by the 1987 Act. Chapter Four examines the alternative tax on capital, which was changed drastically by the 1987 Act. This chapter explains that the Act failed to eliminate all of the shortcomings of this alternative. Chapter Five addresses the alternative tax on net income. Also discussed in this chapter are the two most important tax credits in New York's system: (1) the investment tax credit, and (2) the employment incentive credit. Chapter Six considers various approaches to reforming New York's rules regarding the taxation of investment income. This chapter further discusses the allocation of income by a multijurisdictional corporation in New York, and whether the Article 9-A tax should extend to transportation activities. The article concludes by lauding the many positive reforms of New York's corporate income tax system, and explains that the agenda for future reform is in place. The article urges the State to institutionalize tax reform, which will permanently protect the integrity and operation of the tax system.
Citation Information
Richard D. Pomp, Reforming a State Corporate Income Tax, 51 Alb. L. Rev. 383 (1987) (Symposium Issue).