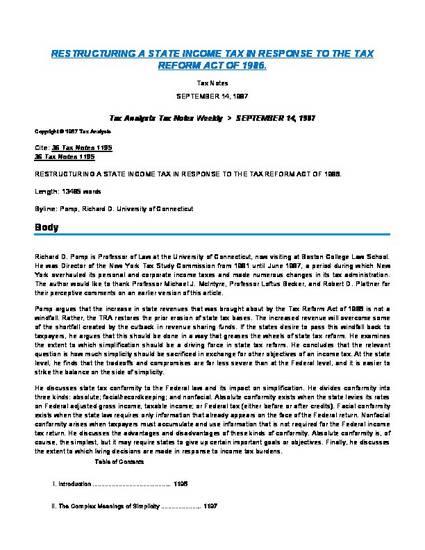 Article
Restructuring a State Income Tax in Response to the Tax Reform Act of 1986
Tax Notes (1987)
Abstract
The Federal Tax Reform Act of 1986 (TRA) broadened the federal tax base, and consequently increased state tax revenue due to the link between the federal and state tax bases. Additionally, the TRA will also provide more equity in the state individual income tax. Going forward, the TRA will engender greater debate over state tax reform, specifically whether federal provisions eliminated by the act should remain intact at the state level.
This article addresses the increase in state tax revenue as a result of the TRA, and future state income tax reform. Part I explains that this increase in revenue is not a "windfall" for the states, but instead a much-needed restoration of state tax bases after years of erosion caused by the federal tax system and the reduction of state and local aid. Part II discusses simplicity in tax systems, which is typically analyzed with respect to the federal personal income tax. This section argues that simplicity at the state level is more feasible than at the federal level, as the tradeoffs between simplicity and other objectives are less applicable to state tax systems due to their lower rates. Part III develops three instrumental concepts for post-TRA state personal income tax reform: (1) absolute conformity, (2) facial/recordkeeping conformity, and (3) nonfacial conformity. Part IV concludes the article by reiterating that eliminating complexity in state income tax systems is achievable because the conflict between simplicity and other goals of a tax system are less acute than at the federal level.
Publication Date
September 14, 1987
Citation Information
Richard D. Pomp, Restructuring a State Income Tax in Response to the Tax Reform Act of 1986, 36 Tax Notes 1195 (1987).