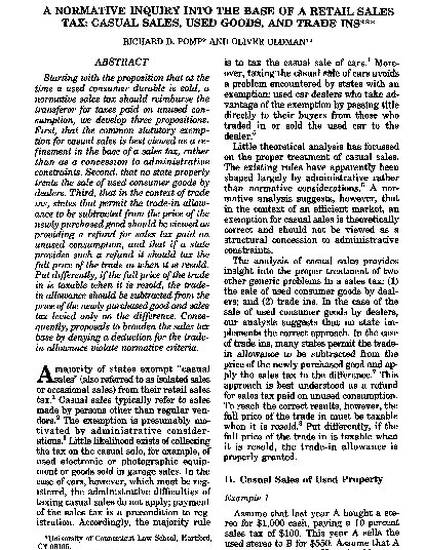 Article
A Normative Inquiry into the Base of a Retail Sales Tax: Casual Sales, Used Goods, and Trade Ins
National Tax Journal (1990)
Abstract
Due to administrative concerns, most state sales taxes exempt "casual sales", that is, sales made by persons other than regular vendors. A major exception is the casual sale of cars because the administrative difficulties are nonexistent due to the registration requirement.
This article analyzes casual sales, and two other sales tax issues: (1) the sale of consumer goods by dealers, and (2) trade ins. The article first discusses the common exemption of casual sales, which is logically correct in the context of an efficient market, and should not be viewed as simply an administrative concession. The article further argues that states typically do not properly handle the sale of used consumer goods by dealers. Furthermore, the article determines that states that apply their sales tax to the difference of the price of a new purchase and the trade in allowance should then tax the full price of the trade in when sold. The article concludes by arguing that states exempt casual sales for the wrong reasons, and states that implicitly provide a reimbursement for prepaid consumption only for vehicle trade ins discriminate against the sale of all other used goods.
Citation Information
Richard D. Pomp & Oliver Oldman, A Normative Inquiry into the Base of a Retail Sales Tax: Casual Sales, Used Goods, and Trade Ins, 43 Nat'l Tax J. 427 (1990).