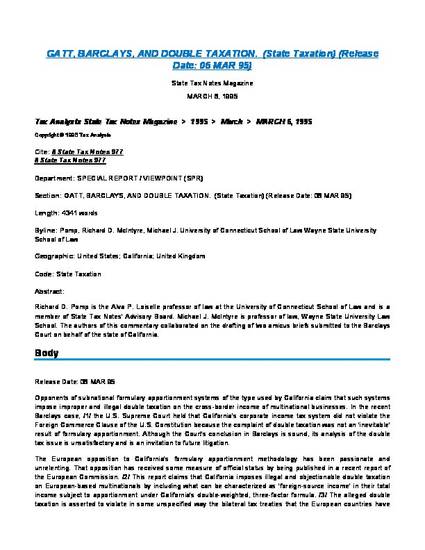 Article
GATT, Barclays, and Double Taxation
State Tax Notes (1995)
Abstract
In Barclays, the Supreme Court held that California's formulary apportionment corporate tax system does not violate the Foreign Commerce Clause because double taxation is not a certain result of such a system. While the Court came to the correct conclusion, its reasoning is erroneous, making future litigation likely.
This article argues that the Court should have clearly explained the meaning of objectionable double taxation in regards to corporations subject to both state and foreign taxation. The article further explains ways of defining what may constitute objectionable double taxtation in this context, and the remedies available to alleviate the problem. The article concludes by urging national governments to relieve subnational double taxation through bilateral agreements.
Publication Date
March 6, 1995
Citation Information
Michael J. McIntyre & Richard D. Pomp, GATT, Barclays, and Double Taxation, 8 State Tax Notes 977 (1995).