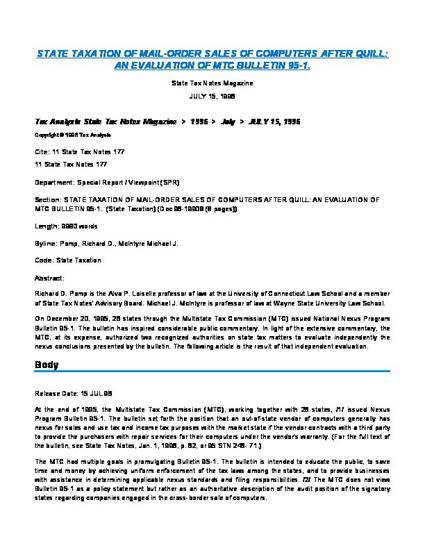 Article
State Taxation of Mail-Order Sales of Computers After Quill: An Evaluation of MTC Bulletin 95-1
State Tax Notes (1996)
Abstract
The Multistate Tax Commission's (MTC) Bulletin 95-1 refines and codifies its longstanding position that a mail-order seller has the requisite nexus to collect a state's use tax if it has a service employee in that state that regularly and continuously works on its behalf. This bulletin has been immediately criticized with varying degrees of intensity.
This article addresses the criticism of Bulletin 95-1. First, the article explains why the proposed "beyond-reasonable-challenge" standard is inappropriate in light of the Supreme Court's inconsistent sales tax nexus Commerce Clause jurisprudence. The article further analyzes Quill, and defends the MTC's interpretation of the holding in that case. The article then examines what constitutes "physical presence" after Quill, and clarifies the MTC's conclusion that in-state repairpersons provide sufficient nexus for out-of-state computer vendors to collect a state's use tax. The article concludes by explaining that Quill specifically addressed nexus in regards to sales tax, and that income tax nexus is less strict than sales tax nexus.
Publication Date
July 15, 1996
Citation Information
Michael J. McIntyre & Richard D. Pomp, State Taxation of Mail-Order Sales of Computers after Quill: An Evaluation of MTC Bulletin 95-1, 11 State Tax Notes 177 (1996).