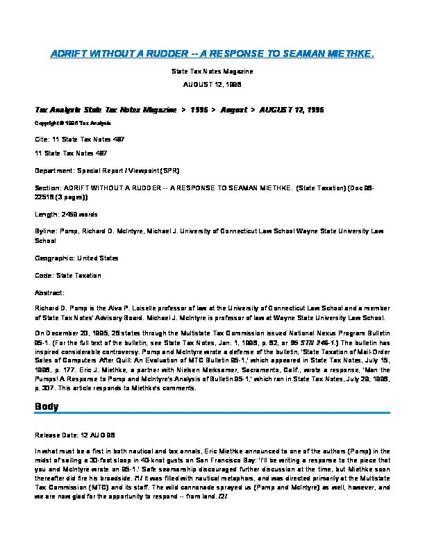 Article
Adrift Without a Rudder -- A Response to Seaman Miethke
State Tax Notes (1996)
Abstract
Eric Miethke criticized Professors Michael J. McIntyre and Richard D. Pomp for not considering California law in their report defending Multistate Tax Commission Bulletin 95-1. This article responds to Miethke's critcisms by explaining that California law is irrelevant because the report is an analysis of federal constitutional law, not state substantive or procedural law. The article concludes by explaining the authors' fundamental opinion that Bulletin 95-1 is supported by Supreme Court precedent, and condemns Miethke's ad hominem attack on the Multistate Tax Commission.
Publication Date
August 12, 1996
Citation Information
Michael J. McIntyre & Richard D. Pomp, Adrift Without a Rudder -- A Response to Seaman Miethke, 11 State Tax Notes 487 (1996).