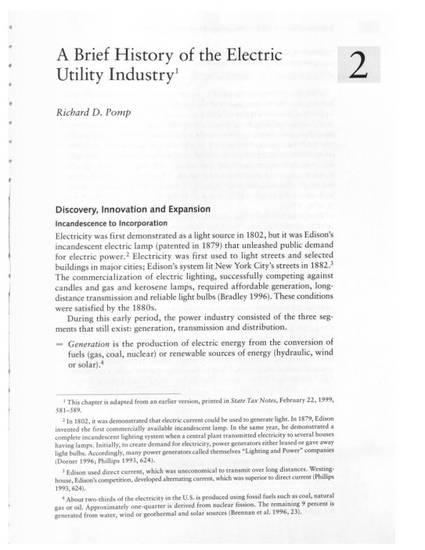 Contribution to Book
A Brief History of the Electric Utility Industry
Impacts of Electric Utility Deregulation on Property Taxation (2000)
Abstract
Technological advances in electricity and energy led to the rapid growth of the electric utility industry. This chapter explains the history of the industry. The chapter begins by explaining the structure of the market in the late 1800s and early 1900s, with private companies servicing the cities and government-owned companies servicing non-urban areas. The chapter continues by examining how technological advances and government policies drastically reduced the number of electric companies by encouraging consolidation. This consolidation led to the rise of holding companies in the 1920s. Federal laws and regulations like PUHCA arose to blunt the dangerous economic practices of holding companies. The structure of the industry, however, was not greatly affected after the dissolution of holding companies, as private power companies continued to dominate. Next, the chapter discusses national energy legislation in the late 1970s and early 1990s, and the effects of these laws on the industry. Finally, the chapter concludes by discussing the push for deregulation at the state and federal level, and pending legislation.
Citation Information
Richard D. Pomp, A Brief History of the Electric Utility Industry, in Impacts of Electric Utility Deregulation on Property Taxation (2000).