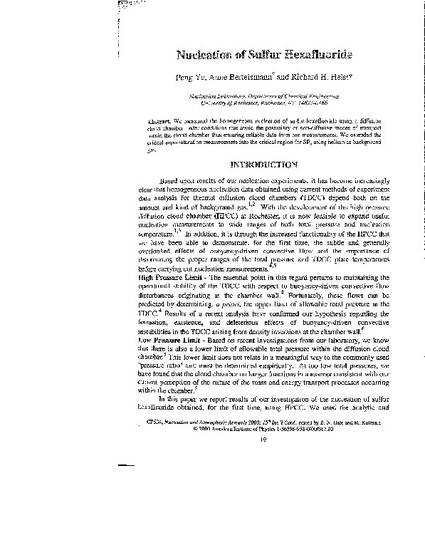 Contribution to Book
Nucleation of sulfur hexafluoride
Nucleation and Atmospheric Aerosols 2000, AIP Conference Proceedings
Document Type
Conference Proceeding
Article Version
Publisher's PDF
Publication Date
1-1-2000
Abstract
We measured the homogeneous nucleation of sulfur hexafluoride using a diffusion cloud chamber under conditions that avoid the possibility of non-diffusive modes of transport within the cloud chamber thus ensuring reliable data from our measurements. We extended the critical supersaturation measurements into the critical region for SF6 using helium as background gas.
Published Citation
Ye, P., Bertelsmann, A., & Heist, R. H. (2000, August). Nucleation of sulfur hexafluoride. In Nucleation and Atmospheric Aerosols 2000, AIP Conference Proceedings Vol. 534(1), pp. 19-22. AIP. Doi:10.1063/1.1361803.
Citation Information
Peng Ye, Anne Bertelsmann and Richard H. Heist. "Nucleation of sulfur hexafluoride"
Nucleation and Atmospheric Aerosols 2000, AIP Conference Proceedings
Vol. 534 Iss. 1 (2000)
Available at: http://works.bepress.com/richard-heist/15/