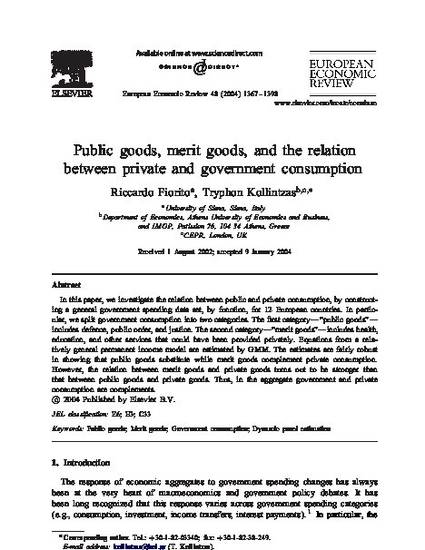 Article
Public Goods, Merit Goods, and the Relation between Private and Government Consumption
European Economic Review (2004)
Abstract
We investigate the relation between public and private consumption by constructing a general government spending data set by function for 12 European countries. In particular, we split government consumption in two categories. The first category ("public goods") includes defence, public order and justice. The second category ("merit goods") includes health, education and other services that are available in the market. GMM estimates of a dynamic panel show that public goods substitute while merit goods complement private consumption. Since merit goods share is bigger, the aggregate relation between private and government consumption turns out to be positive.
Keywords
Public goods,
Merit Goods,
Government Consumption
Citation Information
Riccardo Fiorito and Tryphon Kollintzas. "Public Goods, Merit Goods, and the Relation between Private and Government Consumption"
European Economic Review
Iss. 48 (2004)
Available at: http://works.bepress.com/riccardo_fiorito/7/