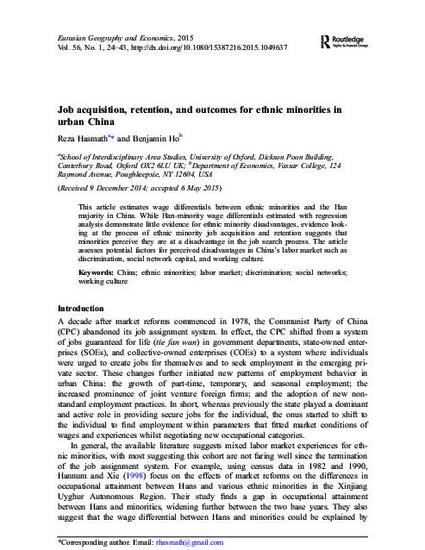 Article
Job Acquisition, Retention, and Outcomes for Ethnic Minorities in Urban China
Eurasian Geography and Economics (2015)
Abstract
This article estimates wage differentials between ethnic minorities and the Han majority in China. While Han-minority wage differentials estimated with regression analysis demonstrate little evidence for ethnic minority disadvantages, evidence looking at the process of ethnic minority job acquisition and retention suggests that minorities perceive they are at a disadvantage in the job search process. The article assesses potential factors for perceived disadvantages in China's labor market such as discrimination, social network capital, and working culture.
Keywords
China,
Ethnic Minorities,
Labor Market,
Discrimination,
Social Networks
Citation Information
Hasmath, R. and Ho, B. (2015) "Job Acquisition, Retention, and Outcomes for Ethnic Minorities in Urban China",
Eurasian Geography and Economics
56(1): 24-43.