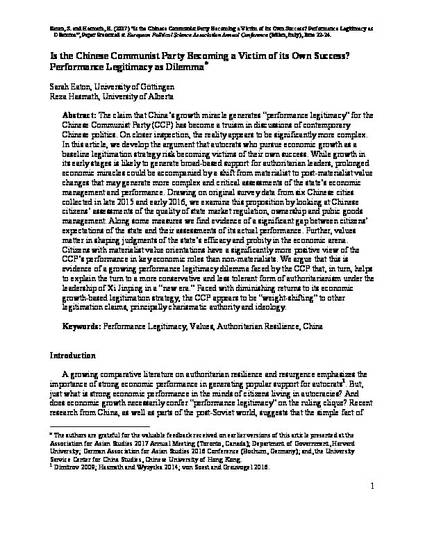 Unpublished Paper
Is the Chinese Communist Party Becoming a Victim of its Own Success? Performance Legitimacy as Dilemma
European Political Science Association Annual Conference (Milan, Italy), June 22-24 (2017)
Abstract
The claim that China's growth miracle generates "performance legitimacy" for the Chinese Communist Party (CCP) has become a truism in discussions of contemporary Chinese politics. On closer inspection, the reality appears to be significantly more complex. In this article, we develop the argument that autocrats who pursue economic growth as a baseline legitimation strategy risk becoming victims of their own success. While growth in its early stages is likely to generate broad-based support for authoritarian leaders, prolonged economic miracles could be accompanied by a shift from materialist to post-materialist value changes that may generate more complex and critical assessments of the state's economic management and performance. Drawing on original survey data from six Chinese cities collected in late 2015 and early 2016, we examine this proposition by looking at Chinese citizens' assessments of the quality of state market regulation, ownership and pubic goods management. Along some measures we find evidence of a significant gap between citizens' expectations of the state and their assessments of its actual performance. Further, values matter in shaping judgments of the state's efficacy and probity in the economic arena. Citizens with materialist value orientations have a significantly more positive view of the CCP's performance in key economic roles than non-materialists. We argue that this is evidence of a growing performance legitimacy dilemma faced by the CCP that, in turn, helps to explain the turn to a more conservative and less tolerant form of authoritarianism under the leadership of Xi Jinping in a "new era." Faced with diminishing returns to its economic growth-based legitimation strategy, the CCP appears to be "weight-shifting" to other legitimation claims, principally charismatic authority and ideology.
Keywords
Ideology,
Authoritarianism,
State Ownership,
Market Regulation,
Performance Legitimacy,
China
Citation Information
Eaton, S. and Hasmath, R. (2017) "Is the Chinese Communist Party Becoming a Victim of its Own Success? Performance Legitimacy as Dilemma", Paper Presented at
European Political Science Association Annual Conference
(Milan, Italy), June 22-24.