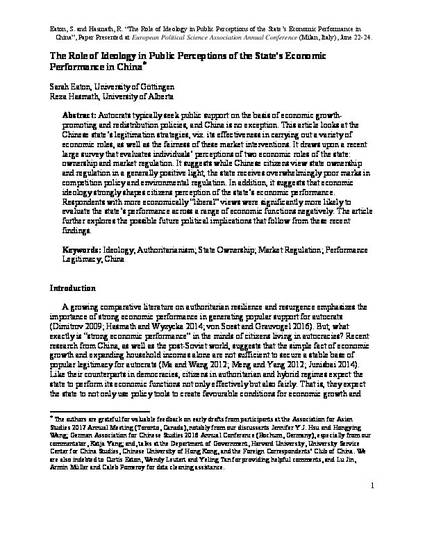 Unpublished Paper
The Role of Ideology in Public Perceptions of the State's Economic Performance in China
European Political Science Association Annual Conference (Milan, Italy), June 22-24 (2017)
Abstract
Autocrats typically seek public support on the basis of economic growth-promoting and redistribution policies, and China is no exception. This article looks at the Chinese state's legitimation strategies, viz. its effectiveness in carrying out a variety of economic roles, as well as the fairness of these market interventions. It draws upon a recent large survey that evaluates individuals' perceptions of two economic roles of the state: ownership and market regulation. It suggests while Chinese citizens view state ownership and regulation in a generally positive light, the state receives overwhelmingly poor marks in competition policy and environmental regulation. In addition, it suggests that economic ideology strongly shapes citizens perception of the state's economic performance. Respondents with more economically "liberal" views were significantly more likely to evaluate the state's performance across a range of economic functions negatively. The article further explores the possible future political implications that follow from these recent findings. 
Keywords
Ideology,
Authoritarianism,
State Ownership,
Market Regulation,
Performance Legitimacy,
China
Citation Information
Eaton, S. and Hasmath, R. (2017) "Is Economic Liberalism a Threat to Autocrats? The Role of Ideology in Public Perceptions of the State's Economic Performance in China", Paper Presented at
European Political Science Association Annual Conference
(Milan, Italy), June 22-24.