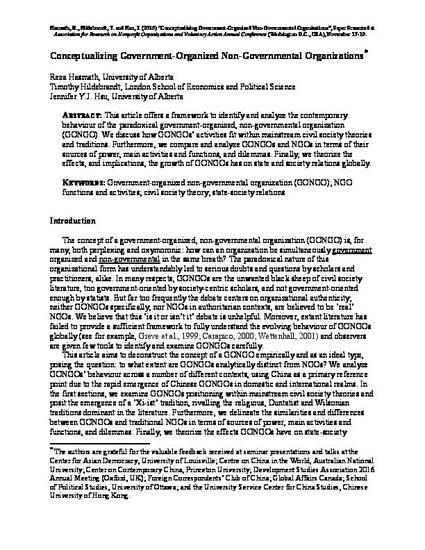 Unpublished Paper
Conceptualizing Government-Organized Non-Governmental Organizations
Association for Research on Nonprofit Organizations and Voluntary Action Annual Conference (Washington D.C., USA), November 17-19 (2016)
Abstract
This article offers a framework to identify and analyze the contemporary behaviour of the paradoxical government-organized, non-governmental organization (GONGO). We discuss how GONGOs' activities fit within mainstream civil society theories and traditions. Furthermore, we compare and analyze GONGOs and NGOs in terms of their sources of power, main activities and functions, and dilemmas. Finally, we theorize the effects, and implications, the growth of GONGOs has on state and society relations globally.
Keywords
GONGO,
international NGOs,
global state-society relations,
civil society,
authoritarianism
Citation Information
Hasmath, R., Hildebrandt, T. and Hsu, J.Y. (2016) "Conceptualizing Government-Organized Non-Governmental Organizations", Paper Presented at
Association for Research on Nonprofit Organizations and Voluntary Action Annual Conference
(Washington D.C., USA), November 17-19.