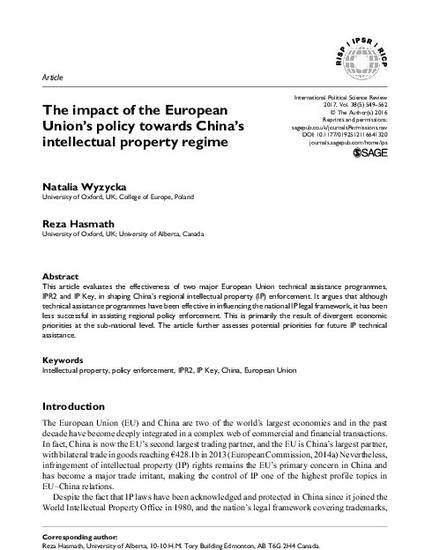 Article
The Impact of the European Union's Policy Towards China's Intellectual Property Regime
International Political Science Review (2017)
Abstract
This article evaluates the effectiveness of two major European Union technical assistance programmes, IPR2 and IP Key, in shaping China's regional intellectual property (IP) enforcement. It argues that although technical assistance programmes have been effective in influencing the national IP legal framework, it has been less successful in assisting regional policy enforcement. This is primarily the result of divergent economic priorities at the sub-national level. The article further assesses potential priorities for future IP technical assistance.
Keywords
Intellectual Property Rights,
Enforcement,
IPR2,
IP Key,
China,
European Union
Citation Information
Wyzycka, N. and Hasmath, R. (2017) "The Impact of the European Union's Policy Towards China's Intellectual Property Regime",
International Political Science Review
38(5): 549-562.