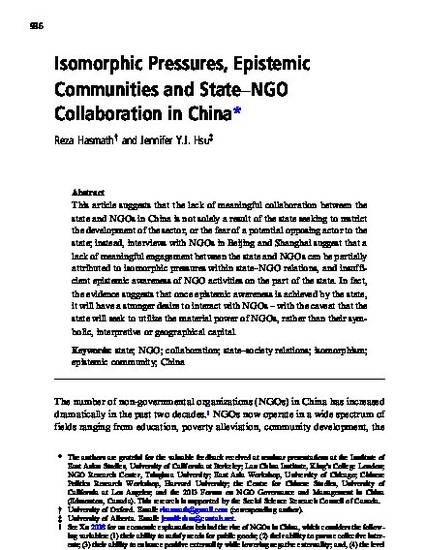 Article
Isomorphic Pressures, Epistemic Communities and State-NGO Collaboration in China
The China Quarterly (2014)
Abstract
This article suggests that a lack of meaningful collaboration between the state and NGOs in China is not solely a result of the state seeking to restrict the development of the sector, or fear of a potential opposing actor to the state. Instead, interviews with NGOs in Beijing and Shanghai suggests that a lack of meaningful engagement between the state and NGOs can be partially attributed to isomorphic pressures within state-NGO relations, and insufficient epistemic awareness of NGO activities on the part of the state. In fact, the evidence suggests that once epistemic awareness is achieved by the state, they will have a stronger desire to interact with NGOs – with the caveat that the state will seek to utilize the material power of NGOs, rather than their symbolic, interpretive or geographical capital.
Keywords
State,
NGO,
Collaboration,
State-Society,
Isomorphism,
Epistemic Community
Citation Information
Hasmath, R and Hsu, J. (2014) "Isomorphic Pressures, Epistemic Communities and State-NGO Collaboration in China",
The China Quarterly
220: 936-954.