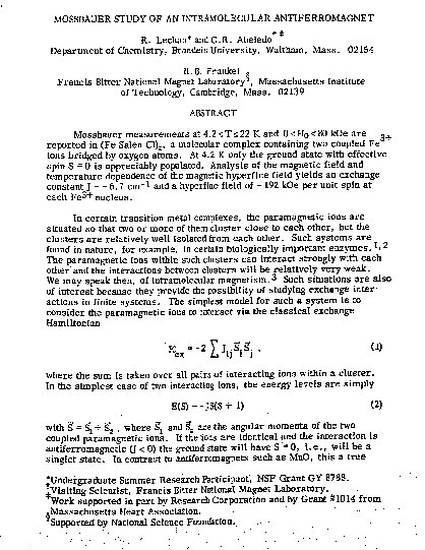 Presentation
Mossbauer Study of an Intramolecular Antiferromagnet
17th Conference on Magnetism and Magnetic Materials
Publication Date
1-1-1971
Abstract
Mossbauer measurements at 4.2 ≤T ≤ 22 K and OsHosBO kOe are + reported in (Fe Salen Cl)2, a molecular complex containing two coupled Fe3+ ions bridged by oxygen atoms. At 4.2 K only the ground state with effective spin S = 0 is appreciably populated. Analysis of the magnetic field and temperature dependence of the magnetic hyperfine field yields an exchange constant J= -6.7 cm>sup>-1 and a hyperfine field of -192 kOe per unit spin at each Fe3+ nucleus.
Citation Information
R. Lechan, C. R. Abeledo and R. B. Frankel. "Mossbauer Study of an Intramolecular Antiferromagnet"
17th Conference on Magnetism and Magnetic Materials
Vol. 5 (1971) p. 659 - 662
Available at: http://works.bepress.com/rfrankel/167/