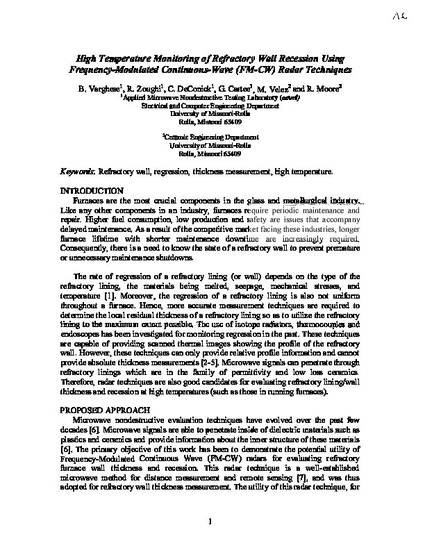 Article
High-Temperature Monitoring of Refractory Wall Recession Using Frequency-modulated Continuous-wave (FM-CW) Radar Techniques
Proceedings of the Review of Progress in Quantitative Nondestructive Evaluation (2004, Golden, CO)
Abstract
Furnaces are among the most crucial components in the glass and metallurgical industry. Nowadays, furnaces are being operated at higher temperatures and for longer periods of time thus increasing the rate of wear on the furnace refractory lining. Consequently, there is a great need for a nondestructive tool that can accurately measure refractory wall thickness at high temperatures. In this paper the utility of a frequency-modulated continuous-wave (FM-CW) radar is investigated for this purpose.
Meeting Name
Review of Progress in Quantitative Nondestructive Evaluation (2004: Jul. 25-30, Golden, CO)
Department(s)
Electrical and Computer Engineering
Second Department
Materials Science and Engineering
Keywords and Phrases
CW Radar,
FM Radar,
Furnaces,
High-Temperature Techniques,
Nondestructive Testing,
Refractories,
Thickness Measurement
International Standard Book Number (ISBN)
0735402450; 9780735402454
Document Type
Article - Conference proceedings
Document Version
Accepted Manuscript
Rights
© 2005 American Institute of Physics (AIP), All rights reserved.
Publication Date
5-1-2005
Citation Information
Bivin Varghese, C. DeConick, G. Cartee, M. Velez, et al.. "High-Temperature Monitoring of Refractory Wall Recession Using Frequency-modulated Continuous-wave (FM-CW) Radar Techniques"
Proceedings of the Review of Progress in Quantitative Nondestructive Evaluation (2004, Golden, CO)
Vol. 760 (2005) p. 1714 - 1720 ISSN: 0094-243X
Available at: http://works.bepress.com/reza-zoughi/120/